WASHINGTON, D.C. — Senator Steve Daines honored Crow War Chief Joseph Medicine Crow by submitting a statement of recognition in the official Congressional Record on his 102nd birthday.
Medicine Crow comes from a long line of relatives living past 100 years of age, and has proudly served as the Crow Tribe's historian and storyteller.
The Congressional Record reflects the official proceedings of Congress and will now include Daines' recognition of Medicine Crow.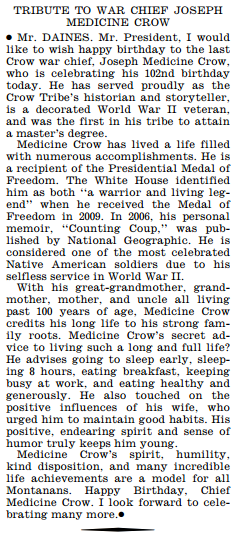 Daines' recognition in the Congressional Record is available here.
The following is the statement submitted to the Congressional Record:
IN RECOGNITION OF WAR CHIEF MEDICINE CROW
Mr. DAINES. Mr. President, I'd like to wish happy birthday to the last Crow War Chief Joseph Medicine Crow, who is celebrating his 102nd birthday today. He has served proudly as the Crow Tribe's historian and storyteller, is a decorated World War II veteran and was the first in his tribe to attain a master's degree.
Medicine Crow has lived a life filled with numerous accomplishments He is a recipient of the Presidential Medal of Freedom. The White House identified him as both "a warrior and living legend" when he received the Medal of Freedom in 2009. In 2006, his personal memoir, "Counting Coup," was published by National Geographic. He is considered one of the most celebrated Native American soldiers due to his selfless service in World War II.
With his great-grandmother, grandmother, mother, and uncle all living past 100 years of age, Medicine Crow credits his long life to his strong family roots. Medicine Crow's secret advice to living such a long and full life? He advises going to sleep early, sleeping eight hours, eating breakfast, keeping busy at work and eating healthy and generously. He also touched on the positive influences of his wife, who urged him to maintain good habits. His positive, endearing spirit and sense of humor truly keeps him young.
Medicine Crow's spirit, humility, kind disposition, and many incredible life achievements is a model for all Montanans. Happy Birthday, Chief Medicine Crow. I look forward to celebrating many more.
###