WASHINGTON, D.C. — Senator Steve Daines honored Jacob Francom as the Montanan of the Week today at Daines' office in Washington, D.C. Jacob Francom was recently named 2015 Montana Principal of the Year.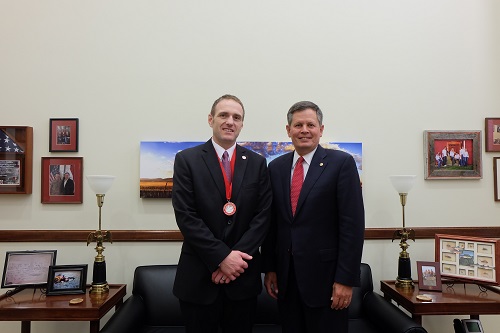 Click here to download a high-resolution photo of Daines and Francom.
Through his "Montanan of the Week" initiative, Daines each week will highlight a Montanan by submitting a statement of recognition in the official Congressional Record, the document that reflects the official proceedings of Congress.
Daines' recognition in the Congressional Record is available here.
Daines welcomes anyone to nominate fellow Montanans for Daines' "Montanan of the Week" program by calling Daines' office at 202-224-2651 or by filling out the contact form on Daines' website: http://www.daines.senate.gov/content/contact-steve.
The following is the statement submitted to the Congressional Record:
MONTANAN OF THE WEEK
Mr. DAINES. Mr. President, I rise today in recognition of Jacob Francom, a top-tier educator from Troy, Montana. Dr. Francom was recently honored as the 2015 Montana Principal of the Year and is an excellent example of the importance of education to the state of Montana.
Dr. Francom has not only succeeded in enhancing and tailoring the professional skills of his staff, but has made great advancements to the technological arenas at his school. He has also developed and improved the systems of instruction used with the students of Troy Junior and Senior High Schools.
What sets Dr. Francom apart is not only his leadership and pioneering at his own school, but his initiative in helping the schools in other parts of Lincoln County. His efforts are focused on aiding Troy, Libby, and Eureka, with hopes to share in the milestones they reach.
At only 36 years old, he has earned a bachelor's degree from Utah State University, a master's degree from University of Arizona, and his doctorate, along with a second master's, from the University of Montana. He started his career working at a boarding school in the Yaak, but in five short years became a rising star at Troy Junior and Senior High School. Three years later, he was serving as superintendent.
The characteristics that have made Dr. Francom a prime candidate for this award are not limited to his work in the education field. His humility and perseverance have made him a positive and inspiring example for our state. It is great appreciation that I thank Principal Francom for his work in Troy and across our state.
###
Contact: Alee Lockman, Katie Waldman or Lindsey Singer