WASHINGTON, D.C. — Senator Steve Daines today honored Ben Steele, a World War II veteran of Billings, for his exceptional service to the nation and the Billings community.
During the war, Steele served in the Philippines and survived the Bataan Death March. After World War II Steele studied art at the University of Denver and later taught at Montana State University – Billings.
Through his "Montanan of the Week" initiative, Daines each week will highlight a Montanan by submitting a statement of recognition in the official Congressional Record, the document that reflects the official proceedings of Congress.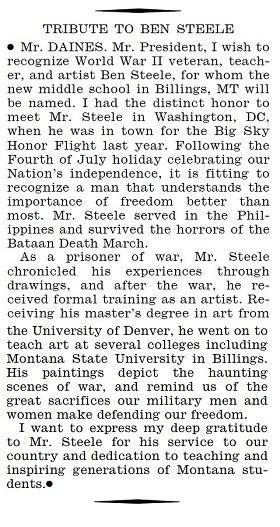 Daines' recognition in the Congressional Record is available here.
Daines welcomes anyone to nominate fellow Montanans for Daines' "Montanan of the Week" program by calling Daines' office at 202-224-2651 or by filling out the contact form on Daines' website: http://www.daines.senate.gov/content/contact-steve.
The following is the statement submitted to the Congressional Record:
MONTANAN OF THE WEEK
Mr. DAINES. Mr. President, I wish to recognize World War II veteran, teacher, and artist Ben Steele, for whom the new middle school in Billings, MT will be named. I had the distinct honor to meet Mr. Steele in Washington, D.C. when he was in town for the Big Sky Honor Flight last year. Following the Fourth of July holiday celebrating our nation's independence, it is fitting to recognize a man that understands the importance of freedom better than most. Mr. Steele served in the Philippines and survived the horrors of the Bataan Death March.
As a prisoner of war, Mr. Steele chronicled his experiences through drawings, and after the war, he received formal training as an artist. Receiving his master's degree in art from the University of Denver, he went on to teach art at several colleges including Montana State University – Billings. His paintings depict the haunting scenes of war, and remind us of the great sacrifices our military men and women make defending our freedom.
I want to express my deep gratitude to Mr. Steele for his service to our country and dedication to teaching and inspiring generations of Montana students.
###