BOZEMAN, Mont. – Senator Steve Daines today honored Jaydyn Child, a Dillon high school student who recently received the Girl Scouts' highest possible award, the Gold Award, for her project to raise awareness about suicide prevention among teens and adults in Montana.
Daines presented Jaydyn with her award today at the ribbon cutting ceremony for a new Girl Scouts of Montana and Wyoming office in Bozeman.
Click here to download the high-resolution photo.
Through his "Montanan of the Week" initiative, Daines each week will highlight a Montanan by submitting a statement of recognition in the official Congressional Record, the document that reflects the official proceedings of Congress.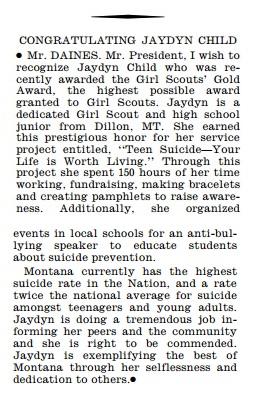 Daines' recognition in the Congressional Record is available here.
Daines welcomes anyone to nominate fellow Montanans for Daines' "Montanan of the Week" program by calling Daines' office at 202-224-2651 or by filling out the contact form on Daines' website: http://www.daines.senate.gov/content/contact-steve.
The following is the statement submitted to the Congressional Record:
CONGRATULATING JAYDYN CHILD
Mr. DAINES. Mr. President, I wish to recognize Jaydyn Child who was recently awarded the Girl Scouts' Gold Award, the highest possible award granted to Girl Scouts. Jaydyn is a dedicated Girl Scout and high school junior from Dillon, MT. She earned this prestigious honor for her service project entitled, "Teen Suicide—Your Life is Worth Living." Through this project she spent one hundred and fifty hours of her time working, fundraising, making bracelets and creating pamphlets to raise awareness. Additionally she organized events in local schools for an anti-bullying speaker to educate students about suicide prevention.
Montana currently has the highest suicide rate in the Nation, and a rate twice the national average for suicide amongst teenagers and young adults. Jaydyn is doing a tremendous job informing her peers and the community and she is right to be commended. Jaydyn is exemplifying the best of Montana through her selflessness and dedication to others.
The ability to educate students and make them ready to take on the challenges that our world contains is a valuable asset to the young adults. Each and every day Mr. Weber provides a great service to our future leaders that words cannot adequately express. I am excited to see what comes of the great men and women that Jim Weber is able to teach and inspire.
###