WASHINGTON, D.C. – Senator Steve Daines today announced that he recently returned from an official overseas congressional delegation trip to Israel, Jordan, Iraq, Kuwait and Afghanistan.
Daines had the opportunity to meet several Middle Eastern leaders and discuss political, economic and security issues facing Middle Eastern nations. Meetings included: Israeli Prime Minister Benjamin Netanyahu, Jordanian King Abdullah II, Iraqi Prime Minister Haider al-Abadi, Iraqi President Fuad Masum and Afghan President Ashraf Ghani.
Daines also met with several Montana service members stationed in the Middle East, including General Paul Funk, a native of Roundup, Montana and a graduate of Montana State University. Daines also had the opportunity to meet with Montana service members at Train, Advise, Assist Command – East at Tactical Base Gamberi in Afghanistan near Jalalabad.
While meeting with the American troops serving in combat zones, Daines expressed his appreciation for their service to the United States and commended their ongoing efforts to secure peace in the Middle East.
Following his return to the United States, Daines conveyed the importance of maintaining strong foreign policy in the Middle East and protecting the United States' strong partnership with Israel.
"As emerging threats in the Middle East endanger our security at home and abroad, it is critical that we develop a clear strategy to address threats like ISIS and a nuclear-armed Iran. We must also maintain a strong partnership with Israel, while supporting the brave Americans stationed abroad working tirelessly to keep our nation and world safe," Daines stated. "Witnessing the turmoil in the Middle East and hearing firsthand from the leaders of these nations reaffirms my concerns about the President's lack of strategy in the region. The United States must remain vigilant and work closely with our overseas allies to promote global security and eliminate these threats."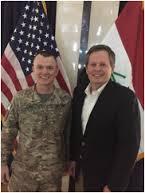 Daines with General Paul Funk in Baghdad
Daines was part of a delegation of Senators that included Senate Majority Leader Mitch McConnell (R-KY) and Senators Shelley Moore Capito (R-WV), Cory Gardner (R-CO), David Perdue (R-GA), Thom Tillis (R-NC) and Ben Sasse (R-NE).
Photos and video from Daines' trip are available for download here.
###