01.05.18
Daines Honors Montanan of the Week: Montana Representative Kelly Flynn of Broadwater County
Daines Honors Montanan of the Week: Montana Representative Kelly Flynn of Broadwater County
U.S. SENATE —U.S. Senator Steve Daines today recognized Montana Representative Kelly Flynn of Broadwater County for his decades of service to the State of Montana.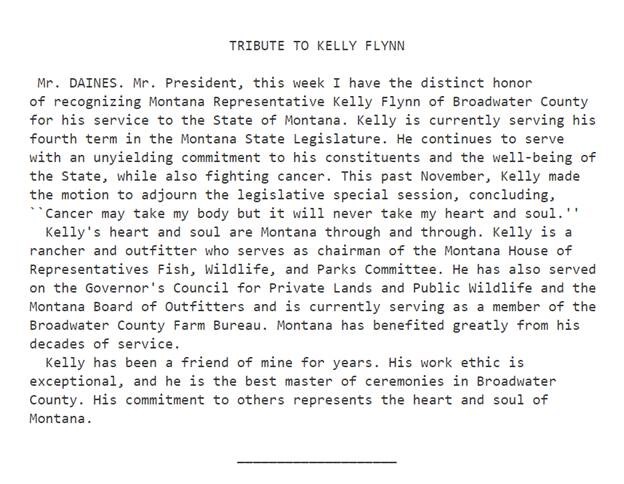 Daines' recognition in the Congressional Record is available here.
Through his "Montanan of the Week" initiative, Daines each week will highlight a Montanan by submitting a statement of recognition in the official Congressional Record, the document that reflects the official proceedings of Congress.
Daines welcomes anyone to nominate fellow Montanans for Daines' "Montanan of the Week" program by calling Daines' office at 202-224-2651 or by filling out the contact form on Daines' website: http://www.daines.senate.gov/connect/email-steve
The following is the statement submitted to the Congressional Record:
MONTANAN OF THE WEEK
Mr. President, this week I have the distinct honor of recognizing Montana Representative Kelly Flynn of Broadwater County for his service to the State of Montana. Kelly is currently serving his fourth term in the Montana State Legislature. He continues to serve with an unyielding commitment to his constituents and the wellbeing of the state while also fighting cancer. This past November Kelly made the motion to adjourn the legislative special session concluding, "Cancer may take my body but it will never take my heart and soul."
Kelly's heart and soul are Montana through and through. Kelly is a rancher and outfitter who serves as Chairman of the Montana House of Representatives Fish, Wildlife and Parks Committee. He has also served on the Governor's Council for Private Lands and Public Wildlife and the Montana Board of Outfitters and is currently serving as a member of the Broadwater County Farm Bureau. Montana has benefited greatly from his decades of service.
Kelly has been a friend of mine for years. His work ethic is exceptional and he's the best Master of Ceremonies in Broadwater County. His commitment to others represents the heart and soul of Montana.
###
---
---
Previous Article
Next Article